Working in partnership with you to enhance your health.
Working in partnership with you to enhance your health.
Updates
Hello! As things are a little bit easier in terms of restrictions, I am now offering my longer reflexology treatments again. This includes a foot bath, a full reflexology treatment, and a lower leg massage. Great for a gift or a wee treat for yourself!
Stay well! 🌻
Are you looking to take back control of your physical health and emotional wellbeing?
About Lesley Munro
I am based in Edinburgh with over twenty years experience as a Registered Homeopath and Reflexologist. I treat people of all ages with diverse health issues.
How Homeopathy can help you
Homeopathy has been practised all around the world for over 250 years. Homeopathic remedies are made from a wide range of substances including plants, trees and minerals. The choice of substance that is used in a Homeopathic remedy is individualised for each person. As well as the substance they are made from, Homeopathic remedies contain varying amounts of energy; this is due to the manner in which they are made.
The substance that the remedy is made from and the energy which it contains are given with the aim of helping your body to release a re-balancing or healing response.
My style of practice
My style of practice is influenced by my many years of working as a social worker. It has been my privilege to work closely with families and children – to support them but also to learn from them. It is my aim that we work together in partnership – you know the changes which you need to make in your own life and health. My choice of remedies aims to offer you a catalyst to make positive changes to enhance your wellbeing.
Reflexology
Reflexology is an ancient form of healing – it can be traced back to early Chinese and Egyptian cultures. The feet are seen as a map of the body and the purpose of the therapy is to stimulate the body's own natural ability to heal and rebalance itself by applying pressure to the feet in a specific manner
My Practice
I offer a service which aims to be flexible around the demands of modern lifestyles and therefore evening, weekend and telephone consultations are available. One of my goals is to enable people to use Homeopathy safely and effectively at home and so I offer a regular workshops programme. I am available to deliver my workshop programme to community groups in their own venue.
Contacting Lesley Munro
t: 07871198843
e: mail@lesleymunro.co.uk 
I am based in Edinburgh and consult from:
Mulberry House
21 Manor Place
EH3 7DX
t: 0131 225 2012
Homeopathy For:
mother and baby
children's health
womens health
mens health
menopause
pregnancy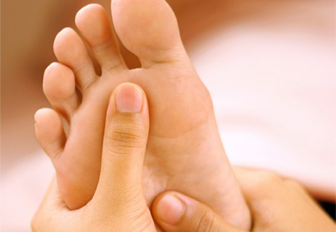 Reflexology
Reflexology can be used purely for relaxation, it has a valuable role to play in supporting health and well-being.
Find out more »